ANTIQUE ALCOCK TWO ROLLER MARKING BOARD
Price $2,400.00 inc GST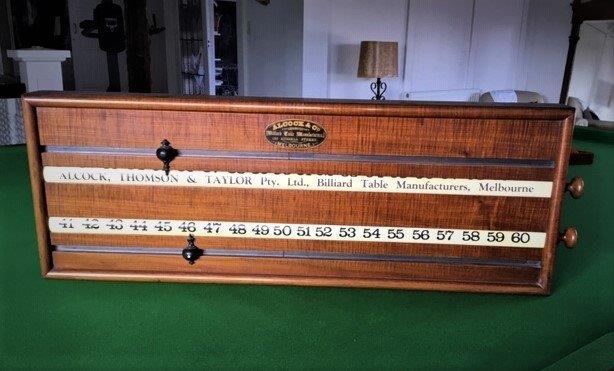 This fine Marking Board* was made at the Alcock Manufactory, Russell Street Melbourne. It is more than 130 years old!
It is in exceptional condition, faced in very fine original figured blackwood (fiddleback) veneers, and featuring original wooden pointers, with the Plaque also in great condition.
This Marking Board has not been restored for many years, consequently showing a genuine patina of age.
*(We refer to such classic scoring devices as Marking Boards rather than Scoreboards because, for hundreds of years the person controlling a classic game of Billiards, including keeping the Score, was known as the "Marker")
Local, country, and interstate enquiries welcome.
Deliveries can be arranged (POA)
(LEAD TIME TO DELIVERY APPROX. 6 WEEKS)