ANTIQUE CANTED LEG MODEL FULL-SIZE BILLIARD TABLE NO 1848 FROM TRAWALLA
Price $22,800.00 inc GST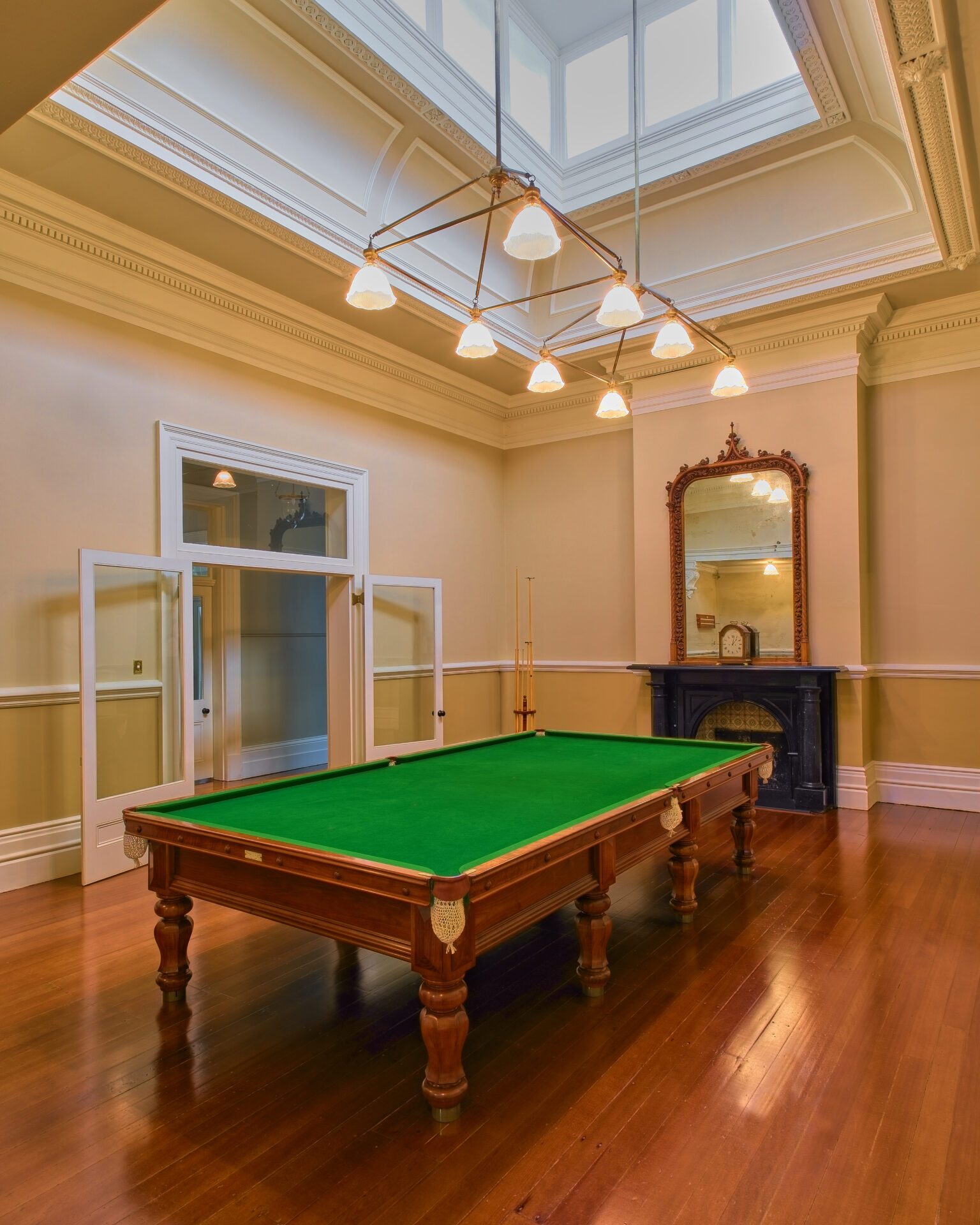 Trawalla, one of Melbourne's most spectacular Victorian Toorak mansions, was originally built in 1867 /1868 and greatly extended in 1885. Much later, it was subject to an absolutely remarkable renovation during the earliest years of this century.
At the centre of the home there is a truly magnificent Billiard Room, complete with high clerestory window and original blue stone piers. Situated on those piers, has been another fine structure from the Victorian era: Full Size Alcock Billiard Table No 1848.
Table No 1848, an outstanding example of the canted leg style developed by Alcocks, was made during the 1870s at our manufactory, then at 132 Russell Street Melbourne. This billiard Table was constructed using Tasmanian Blackwood; the cushion rails feature especially vivid figured (fiddleback) timber grains.
An opportunity to purchase Table No 1848 has become available due to the recent sale of the magnificent Trawalla property.
The Table is presented in mint condition: with new English Trufast moulded rubber cushions, pocket openings cut and shaped to conform to International Billiards and Snooker Federation (1981) templates for match Play; and entirely new Fine Grade West of England cloth by Strachan & Co.
Table No 1848 comes complete with the following new* and existing accessories:
set 2 1/16" Aramith Tournament Champion Super Pro 1G snooker balls*
set 2 1/16" Aramith billiard balls
set 2 1/16" Aramith Super pool balls
full-size wooden triangle
custom made timber boxes for billiards, snooker & pool balls
4 Dufferin Billiard cues
box chalk*
cross rest with brass head
spider rest with brass head
long rest with brass head
long butt
circular cue stand
marking Board with figured Blackwood veneers (reproduction)
full-size dust cover
billiard table brush
PRICE DELIVERED AND INSTALLED
MELBOURNE METROPOLITAN AREA, GROUND FLOOR LOCATION:
(LEAD TIME TO DELIVERY APPROX. 8 WEEKS)
Summary
Brand Name
Product Name
Full Size Antique Canted Leg model Billiard Table
Price
Product Availability