Full Size Antique Squatters Favourite Table No. 3082 by Alcock & Co.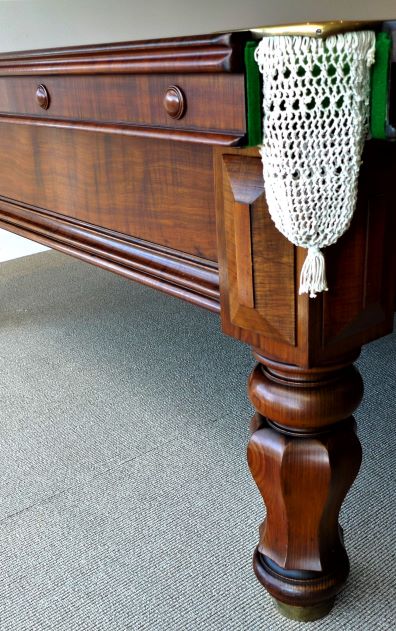 During the 19th century this model of table became widely known as "The Squatters' Favourite" as it was highly popular with the wealthy wool farmers of the western district of Victoria (today there are two examples at the Geelong Club and one still in play at the Hamilton Club).
The example we have currently for sale was manufactured about 1890, and was completely restored approximately 10 years ago. It is presented with a magnificent set of accessories, notably including a Combination Billiards and Life Pool marking board in figured blackwood and a revolving Cue Stand with Jacobean twist pillars.
Accessories
1 set 21⁄16″ snooker balls
1 set 21⁄16″ pool balls
1 set 21⁄16″ billiard balls
1 wooden full size triangle
8 assorted billiard cues
1 long butt
1 half butt
1 quarter butt
1 long rest
1 combination billiards and pool marking board in figured blackwood
1 revolving cue stand with Jacobean pillars
1 billiard table brush
1 set laminated rules of life pool
1 cross rest
1 spider rest
1 vinyl dust cover
1 book "Know the Game Billiards and Snooker"
1 box cuechalk