Alcock & Co 1883 Advertisement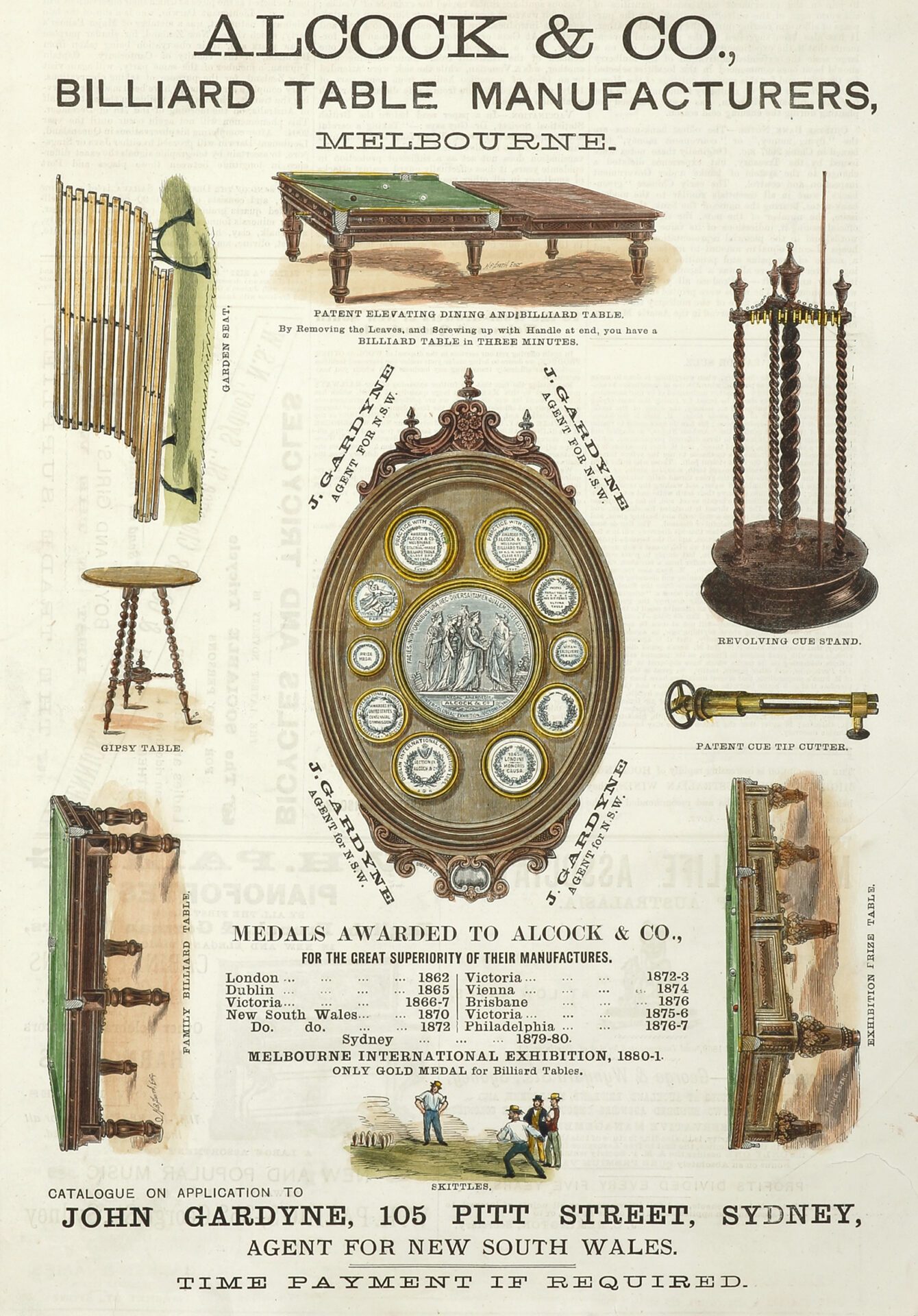 Alcocks were represented in their early years in Melbourne, Sydney, Brisbane, Perth, Adelaide, Wellington and London, among other locations. This c1883 advertisement from the Illustrated Sydney News for Alcock & Co's NSW Agent John Gardyne of 105 Pitt Street Sydney shows a shield displaying medals won by Alcock & Co in international exhibitions, surrounded by a variety of Alcocks products. Several engravings are by HB Smith & Co England. Clockwise from top:
Patent Elevating Dining and Billiard Table
Revolving Cue Stand
Patent Cue Tip Cutter
Exhibition Prize Table
Skittles
Family Billiard Table
Gipsy Table
Garden Seat
John Gardyne, a native of Dundee in Scotland, was an importer and agent who had previously been in partnership with Joseph Holdsworth in the firm of Holdsworth & Gardyne, ironmongers. This must have been a successful enterprise as in September 1881 the company donated an impressive silver cup, 27 inches high, as the first trophy for District Cricket in Sydney; the trophy remains on display in the Sydney University Cricket Club grandstand. In the same year Holdsworth & Gardyne donated another prize, valued at 100 guineas, for an eight-oared race between Sydney's two largest rowing clubs, Mercantile and Sydney Rowing Club, to be rowed on Christmas Eve 1881. The race never eventuated, as Mercantile withdrew and Sydney won on a row-over.
There is a tragic ending to the story of John Gardyne: within a year of this advertisement, he took his own life at the young age of 28 years in June 1883.