Your Billiard Room
Room size is a crucial factor in deciding which table will best suit your need.
Table Size (Imperial)
Minimum Recommended Room Space
(Imperial)
Table Size
(Metric)
Minimum Recommended Room Space
(Metric)
7′ x 3'6″
16′ x 12'6″
2133mm x 1066mm
4.90m x 3.80m
8′ x 4′
16′ x 17'13"
2438mm x 1219mm
5.20m x 4.00m
9′ x 4'6″
18′ x 14′
2743mm x 1371mm
5.50m x 4.30m
10′ x 5′
20′ x 15′
3048mm x 1524mm
6.10m x 4.60m
12′ x 6′
22′ x 16′
3657mm x 1828mm
6.70m x 4.90m
Space Requirements
Purchasing a Billiards or Pool Table is a significant decision. Few of us purchase more than one Table in a lifetime. Therefore, it is crucial that we choose a size of Table suitable for the available room space. It is also important to recognise that it is inappropriate to move a Table with a slate bed frequently. With this purchase you are committing the space on a semi-permanent basis.
We recommend that you give consideration to the Room Space Indicator provided. And, if you have concerns, perhaps with an irregularly shaped room, or with a room which you are planning with more than one purpose in mind, please feel welcome to discuss the issues with us.
Other Features of The Billiard Room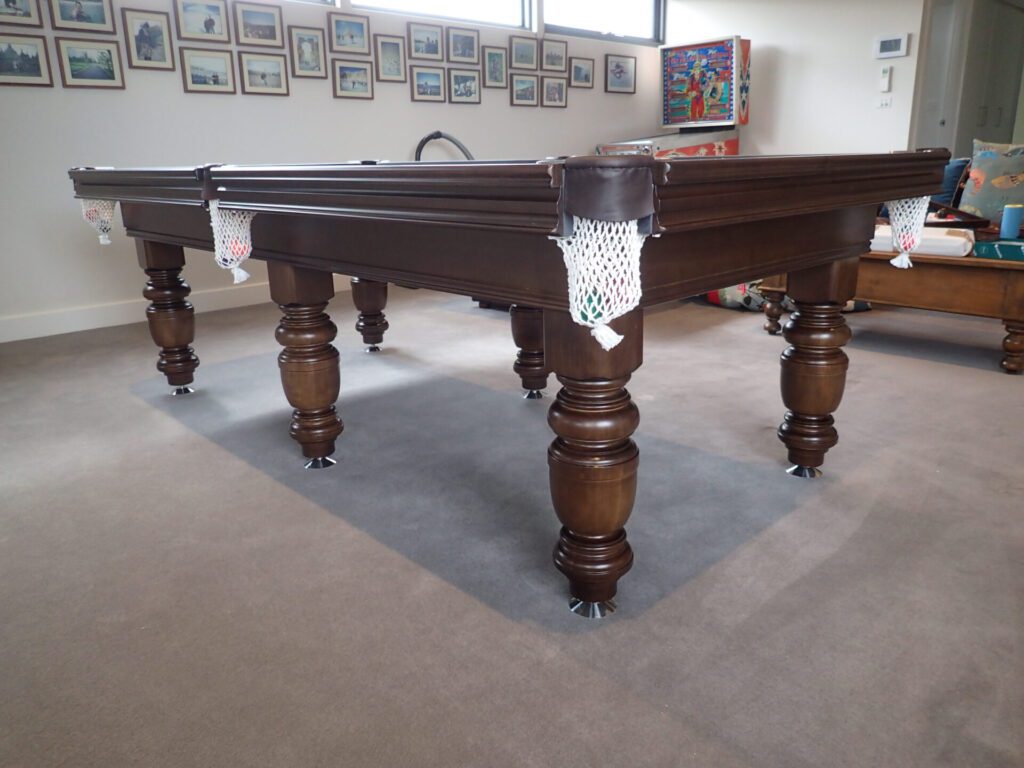 The Table – What to Look for
When you decide to purchase a Billiard Table seek advice from friends who already have one or from someone who plays regularly. When doing your homework, if you find a Table without a brand name it is best to pass by. If you intend to purchase a second hand table check as to likely add on costs, including transport and installation
MAJOR AREAS OF CONCERN ARE:
SLATE
Is the table fitted with a slate bed, and if so, how well is the slate supported?
THE CUSHIONS
The performance of the cushions on a table is crucial, particularly the speed and angle of response. To minimise costs, many new tables are manufactured with poorly constructed (and therefore poorly performing) cushions. Pay close attention to the table cushions as replacement can cost hundreds of dollars.
The Cloth
The most highly regarded billiard cloths are manufactured in England and the best of these in the west of England. A true English billiard cloth is made from wool and has a directional nap on the surface. If you rub it lightly in one direction, it gives a smooth feeling to the hand. Rubbed in the opposite direction it has a rough, resistant feel. High quality billiard cloth is very fine and allows a ball in motion to roll with very little friction to arrest its travel. Replacement of inferior cloth with the high quality article costs hundreds of dollars.
The Pockets
The brackets holding the pockets should be made of metal – plastic or metalised plastic brackets tend to break. The pocket nets should be held in place using strong wire – use of staples for this purpose is inadequate. Brackets should be fitted with genuine hide leather to prevent damage to the balls.