SECOND-HAND SALISBURY MODEL 8FT BILLIARD TABLE NO. 819
Price $6,750.00 inc GST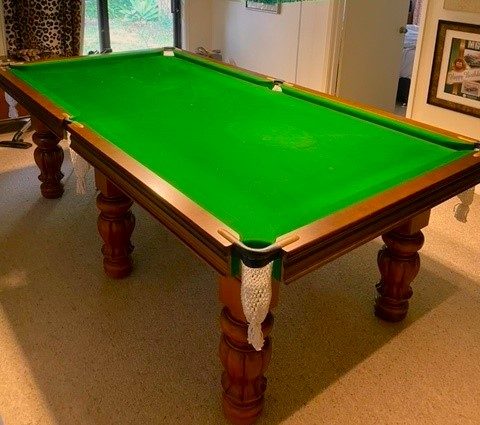 The Salisbury model Table, developed for a family with an eye to Tradition. Salisbury Table No. 819 was originally manufactured during the 1980s. It is now presented for Sale once again with:
Cushion Rails repolished; remaining show woodwork washed down, touched out and re-coated
New moulded rubber cushions
Slate bed checked and re-ground
New West of England Billiard cloth by Strachan & Co. – to your colour preference
New* and second-hand Accessories provided with this Table:
set 2″ Aramith pool balls*
wooden triangle to match Table*
2 x 54″ 1-piece Dufferin cues*
2 X 54" second hand cues
box cue chalk*
chalk Holder – rubber*
cross rest with brass head
8 clip 2-piece cue rack to match Table*
billiard table brush
rules booklet*
Delivered and installed, ground floor location Metropolitan area of Melbourne.
Country enquiries welcome.